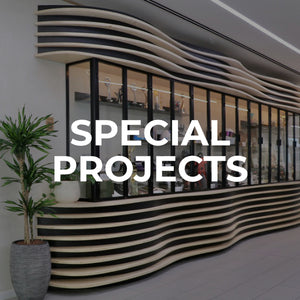 BBC Studios have moved their historic HQ to a new site in the city centre. The new site features 3 floors of offices and we worked to create two very special joinery installs in the reception area. The Concept The concept was to use layers of 27mm Binderholz Spruce engineered board to create a sculptural and organic 3D wooden shape. The installation was first modelled in 3D software to create the unique design. Each of the 13 ribs is different and each rib is divided into 4 sections, creating 52 unique parts. We had to come up with a numbering system to avoid confusion! The...
---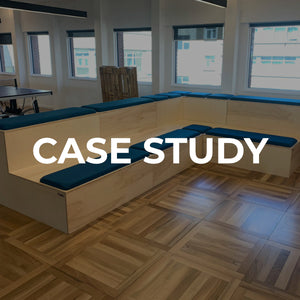 Nexus Search are on a mission to redefine the world of leadership recruitment and their new headquarters is a vital stepping stone to achieve that goal. We worked with Nexus to deliver an L shaped bleacher seating space in their contemporary London office. The client chose light wood with Camira Era Stage upholstery and they went for wide rectangle pads on the TS01 straight units. This order was delivered to London on a pallet which was accepted by one of our fitters before being taken to the 5th floor and assembled within the day. The area is being used for team meetings...
---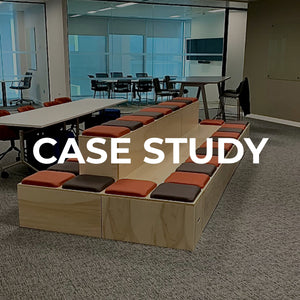 TransUnion is an American consumer credit reporting agency. TransUnion collects and aggregates information on over one billion individual consumers in over thirty countries. We worked with partner design companies to specify and implement this stunning auditorium space into their office.  The process started with an enquiry containing an interior designers vision of the space. We worked to create a proposal using our product range to closely match the desired design intent. Creating the space using our already designed modular products makes the tiered office installation much more affordable than commissioning a completely bespoke design. We issued a proposal of tiered office seating...
---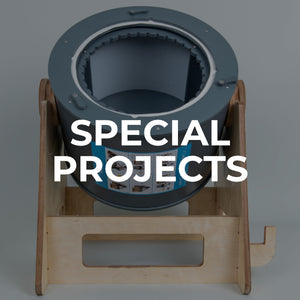 In July 2021 we manufactured the parts required for 30 hand operated washing machines. These machines were designed by the Washing Machine Project for humanitarian purpouses. They are simply to use, durable and reliable. They can also be assembled by low skill volunteers. Below is an excerpt as written by BBC news: The first batch of 30 hand-cranked washing machines, invented by a student for those living in poverty, has been sent to a camp in northern Iraq.Former University of Bath student, Navjot Sawhney, set up the Washing Machine Project in 2018 after being inspired by a salad spinner. Mr...
---
Saatchi & Saatchi is a leading global communications and advertising network known for its impactful creative ideas that generate powerful emotional connections between consumers and brands. Present in over 67 countries, Saatchi & Saatchi employs 6,500 professionals over 114 offices. We were approached by their London office to provide our Basecamp tiered seating as part of their office refurb. They wanted to make use of a hallway space at the bottom of a staircase. The idea was to implement modular bleachers seating to bring teams together. After a consulation phase we delivered the seating on pallet and our London fitter assembled everything in...