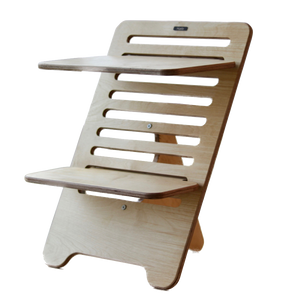 Huxlo
Standing Desk Converter
Regular price
£124.99
Free UK 48hr delivery.
£0.00
Our standing desk converter offers an alternative position for working, it turns your existing desk into a standing desk quickly and elegantly.
FSC Birch Plywood
Made in UK
Adjustable
---
Easy to Adjust
The standing desk converter is adjustable to ensure eye level screen viewing and a 90 degree elbow bend for everyone, positions that are widely accepted as best ergonomic practice.
Easy to Assemble
The standing desk arrives in four parts. The frame is assembled with use of an allen key. Two bolts secure the rear leg to the front plate. The keyboard and screen plates simply slot into the grid at your desired height.
---
Technical Specification
---
Sustainable as Standard
All of our items are made in the UK from sustainably sourced FSC wood.
Included Parts
1 x Front Face Plate
1 x Rear Leg
1 x Laptop/Monitor Stand
1 x Keyboard Stand
2 x 35mm Cross Dowel Bolts
2 x Cross Dowel Nuts
Two sizes available
We offer two sizes for the keyboard stand. The standard width is 50cm and this is the width used in the pictures. A 60cm width is available which is more suitable for wide keyboards with number pads.
---
More from this collection