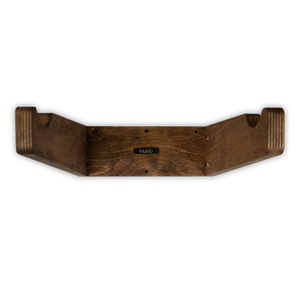 Huxlo
Maurad Bike Wall Mount Dark Stain
Regular price
£29.99
Free UK 48hr delivery.
£0.00
MAURAD is our bike wall mount. It was designed for displaying your favourite road bike in the home.
FSC Birch Plywood
Made in UK
Mounting Hardware Included
Dark Stain Finish
---
How strong is it?
Though we haven't tested to destruction, MAURAD has withstood up to 80kg of evenly loaded mass. The vertical laminations in the arms are extremely strong. You will find that the wall fixing will fail before the product fails. We recommend you use MAUARD sensibly (with bikes only!) and take no responsibility for incorrect wall fixing.
How do you fix it to the wall?
For plaster and brick walls you will need to use the supplied wall plug. For stud walls (plasterboard on top of timber studs), you will need to locate a stud and screw directly through the plasterboard and into the stud.
---
Technical Specification
Drawing is of the road bike version. The hybrid version is the same but with longer arms.
Assembly Process
---
Will my bike fit?
Road Version: Designed for road bikes with drop handlebars up to 48cm end to end.
Hybrid Version: Designed for hybrid bikes with flat handlebars up to 62cm end to end.
Included Hardware
1 x MAURAD Bike Rack
4 x M6 Hex Bolts
4 x M6 Locking Dowl Nuts
4 x 6mm Wall Plugs
4 x 5mm Cross Head Screws
4 x Screw Caps
Packaging
The bicycle rack comes wrapped in a clear plastic film - great for gifts. Items are sent inside a cardboard box with paper padding.
---
---
More from this collection